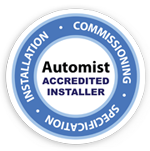 Introduction
Mainpoint are accredited installer's of Automist®.
Automist® (made by Plumis) is an award-winning, innovative, sprinkler-alternative. It comes in either a 'Fixed Head Solution' which sprays mist equally into all corners of a room or as 'Automist® Smartscan' which is able to detect a fire and spray mist in the direction of the fire.
Automist® is often used by architects to enable open-plan living, (whilst complying with fire regulations). It is also used in listed-properties and those of historical importance as there is minimal disruption and minimal water damage when it is used. Take a look at our case studies to find out more about it's applications.
We install and service Plumis Automist® products in the South West, Wales and West Midlands.
Fixed Head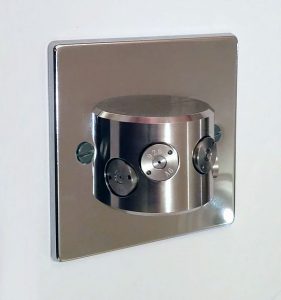 Plumis Automist have a 'fixed wall head' option (as pictured).
Mist is sprayed into all directions of the room should a fire be detected.
Automist® Fixed Wall Head doesn't take up much room and is installed as shown in the diagram.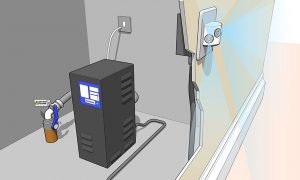 Automist® Fixed Wall Head is an LABC Registered Solution (EW171) for loft conversions. It is an innovative, fire protection solution designed to allow open plan layouts to comply with regulations.
Building and housing regulations have traditionally encouraged the creation of fire resistant compartments in homes so as to limit the spread of fire, an approach that consumers find increasingly frustrating as they seek open, light spaces to live in. Today however, the LACoRS guide, Approved Document B and the Scottish Building Regulations all recognise the need for flexibility of layout and all allow open-plan designs as long as some additional features, including fire suppression, are provided.
Smartscan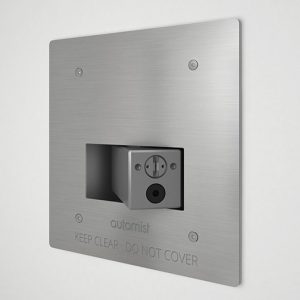 The Automist® Smartscan  (pictured) directs the mist at the fire, rather than treating the entire area as would be the case with more traditional sprinklers or the Automist® Fixed Wall Head.
Automist® Smartscan is more than a safety device for suppressing fires – it's a modern design feature for open plan living. An evolution of the James Dyson award-winning Automist®, the discreet wall-mounted device enables homeowners and architects to design beautifully light and open spaces, while meeting the challenging requirements of building regulations.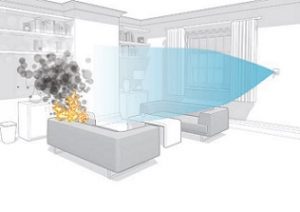 Automist® Smartscan has a rotating head that directly targets fires with a powerful jet of water mist. It has been proven to achieve the same fire performance as residential sprinkler systems, and typically uses 90% less water minimising consequential water damage to the living space.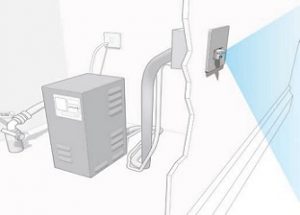 Direct targeting
Automist® Smartscan suppresses fires more efficiently by targeting the origin of the fire directly.
Meets the highest performance standards
Automist® Smartscan has met the fire performance standards outlined in BS 9252 and BS 8458.
Minimising damage
Unlike conventional sprinklers, Automist® Smartscan can be easily stopped once the fire is extinguished, minimising potential water damage.
Robust activation
Automist® Smartscan is triggered by reliable heat detectors and therefore is not prone to false activations like a smoke alarm.
Less disruption
The average retrofit and installation process takes just a few hours with minimal impact to the building or disruption to daily lives.
Low maintenance
The annual maintenance is quick and simple,taking just a few minutes.
Low water usage
Automist® Smartscan typically uses 90% less water than traditional sprinkler systems, minimising consequential water damage.
Free CPD Seminar
Mainpoint  are able to offer a free CPD Seminar.
We deliver a high quality seminar in which delegates will learn about the benefits of active fire protection and the different types of sprinkler alternatives for domestic fire protection.
Traditional sprinklers are a well-established and effective means of controlling fire. However, their high cost and disruption explain their low penetration in domestic properties.  The use of alternative fire suppression systems can provide the opportunity for both compliance and fire safety to be maximised cost effectively by making sure the objectives of Approved Document B are being met.
Who would benefit from a seminar?
Architects
Building Control Officers
Care Home Managers and Owners
Developers
Housing Associations
Mechanical and Electrical Consultants
Private and public landlords
Quantity Surveyors
Those with a duty of care for the vulnerable
Delegates will also be issued with a CPD training certificate, where required.
Please call 01242 584490 or email for more information.